Scuba Diving in Lanzarote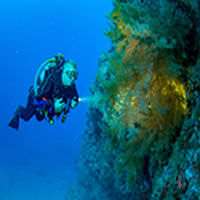 Lanzarote Dive Centre is your One Stop Dive Shop for all your Recreational, Technical, Sidemount and Rebreather Diving in Lanzarote and training courses in Puerto Del Carmen, Lanzarote. The shop is based on the main strip in Puerto Del Carmen and backs on to the beach. The center is run by Paul and Valerie who are both instructors, as well as technical, sidemount and rebreather divers; so they really do understand your diving and teaching needs.

We welcome divers, groups, families and instructors from all agencies including BSAC, PADi, NAUI, SSI, SDI and TDI and IANTD as well as CMAS and their sub-aqua club affiliates such as the CFT, the Irish Underwater Council.

We have a small professional team who focus on providing you with a bespoke, safe, professional diving experience. From getting your first experience of scuba diving to joining our team on a divemaster internship for 3 months.

Lanzarote Dive Centre is a 5 Star TDI/SDI Instructor Trainer Centre, PADi Dive Centre and DSAT TecRec Centre with a full time technical, sidemount and rebreather instructor on staff.

Conservation is of great importance to us from good diving practices, continuing education & debris dives; every dive is a potential debris dive! We provide hot & cold drinks between dives and snacks too such as individually wrapped cakes.

We welcome rec, tec and CCR instructors and their students - so why not make Lanzarote Dive Centre your dive center away from home. You will have all the benefits of completing your training in clear, safe, warm waters as well as the use of our classroom and facilities, including the tv, video, laptop and if need by the blending panel too. Tap into our local knowledge, have the benefit of our assistance with logistics and we can provide the refreshments too! Contact us for more information.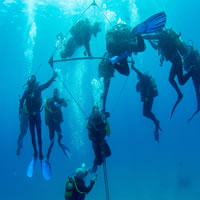 Diving in Lanzarote with a guide
Our aim is to provide you with a bespoke guided dive that is taylored to your diving preferences and needs. If wreck diving is your passion then we have a choice of wrecks to offer in a variety of different depths. Perhaps photography is your thing, if so we will seek out the little critters with you or take you on the most scenic routes. We ensure that you have a knowledgeable dive guide to ensure your safety as the currents can change and be a little unpredicatable at times. Your guide is also there to enhance your experience with information on the marine life and the BEST Lanzarote Dive Sites and to make sure you have fun and perhaps most importantly offer you refreshements (choice of drinks and cakes) bewteen the dives. All this is available from the starting price for a double dive of 60 euros per diver tanks and weights only or 80 euros per diver with full equipment hire. We offer package prices too for six or more dives! More Info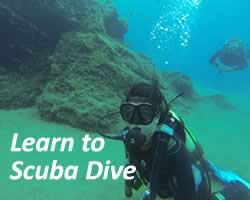 Scuba Diving Courses
We offer the full range of diving courses from complete beginner and basic courses to specialties and professional diving courses. The Try Scuba Diving experience is for those who want to try an underwater experience for the first time, where as the PADi Open Water Course is the first certified course enabling you to dive with a buddy. We can teach over 25 PADi specialties, including deep, wreck and nitrox and when Lanzarote freezes over we can teach ice diving too! Interested in going pro - then check out our PADi Divemaster Internship.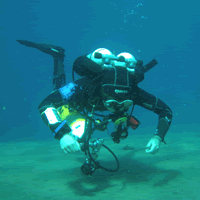 Technical Diving
Lanzarote is a hidden gem when it comes to Techniical diving, with a number of sites offering over 100M+ of depth, and also easy access or long walks. At Lanzarote Dive Centre we offer a full range of both technical courses with PADi or TDi, we are able to provide you with a full technical guide for depths upto 100m. Twinset or sidemount we are able to provide you all the equipment that you require for your technical diving, as well as having helium and nitrox gases available. More Info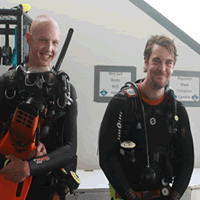 Divemaster Internships
GO Pro - Go PADi Divemaster - join our professional team of instructors on our bespoke Divemaster Internships and develop the skills and knowledge you need to become one of the best as a PADi Divemaster, DSD leader or even a PADi Assistant Instructor. Our internships are designed around you and your current diving level and experience and will develop your knowledge and skills to a professional level. The PADi Divemaster course forms the foundation for the internship however the internship provides so much more, including the opportunity to learn additional skills that are paramount within the diving industry, such as equipment maintenance and gas blending. More Info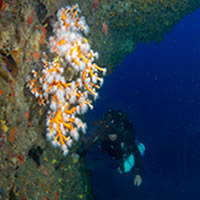 Rebreather Diving
We are the only rebreather friendly dive centre in Puerto Del Carmen, Lanzarote, our centre will take care of all your rebreather needs, from sofnolime, diluent and O2 fills, we have the full range of equipment to support Rebreather Divers , as we are rebreather divers already we understand your needs and make sure everything is ready for you.More Info
Accomodation, Flights to Lanzarote
There is a wide variety of accommodation to choose from on the island, from self-catering through to The Grand 5-star Hotel in Arrecife. Here in Puerto Del Carmen we have lots of self- catering and 1-4 star hotels many of which are on the door step of the dive centre. Click through to our accommodation page and you find information on those closest to the dive centre and some hints and tips on what to look for when choosing.
Arrecife airport has flights to Lanzarote daily from the UK and Europe and it is only 12km to Puerto Del Carmen. With taxis right outside to take you to your chosen accommodation, expect to pay between 12-15 euros for a taxi into Puerto Del Carmen. The buses are also frequent, reliable and offer a cheaper alternative.
As for looking like buses don't think London red bus think luxury coach with plenty of space for your baggage and diving gear!
Talking of diving gear some of the airlines offer different deals and incentives to divers. More Info